20 Oz Classic Tumbler 2.0
Product Description
The Iron Flask 20 oz Classic 2.0 Tumbler is the perfect cup holder-friendly ally to take with you anywhere. This sweat-proof insulated tumbler features double-walled vacuum insulation that keeps your beverages cold for 12 hours or hot for 3 hours. The second-generation classic tumbler comes with two different insulated lids; a splash-proof straw lid with two straws, and a 100% leak-proof flip lid. Both great options for those who typically spill on themselves (no judgment). Plus, the rubber bottom doubles as a coaster, making your tumbler cup non-slip and noise-proof, so no one around you will go "shh!"
20 Oz Classic Tumbler 2.0
Product Description
The Iron Flask 20 oz Classic 2.0 Tumbler is the perfect cup holder-friendly ally to take with you anywhere. This sweat-proof insulated tumbler features double-walled vacuum insulation that keeps your beverages cold for 12 hours or hot for 3 hours. The second-generation classic tumbler comes with two different insulated lids; a splash-proof straw lid with two straws, and a 100% leak-proof flip lid. Both great options for those who typically spill on themselves (no judgment). Plus, the rubber bottom doubles as a coaster, making your tumbler cup non-slip and noise-proof, so no one around you will go "shh!"
Product Features
Cup holder-friendly

Classic 2.0 tumblers in sizes 16 oz, 20 oz , 24 oz and 32 oz fit in most cup holders.

Leak-proof lids

Classic 2.0 tumblers come with TWO different insulated lids. A splash-proof straw lid with two straws, and a 100% leak-proof flip lid. So you can enjoy every sip of your favorite drink without bathing in it.

Built-in coaster

Classic 2.0 tumblers have a rubber bottom that makes them slip-proof, noise-proof and even more durable.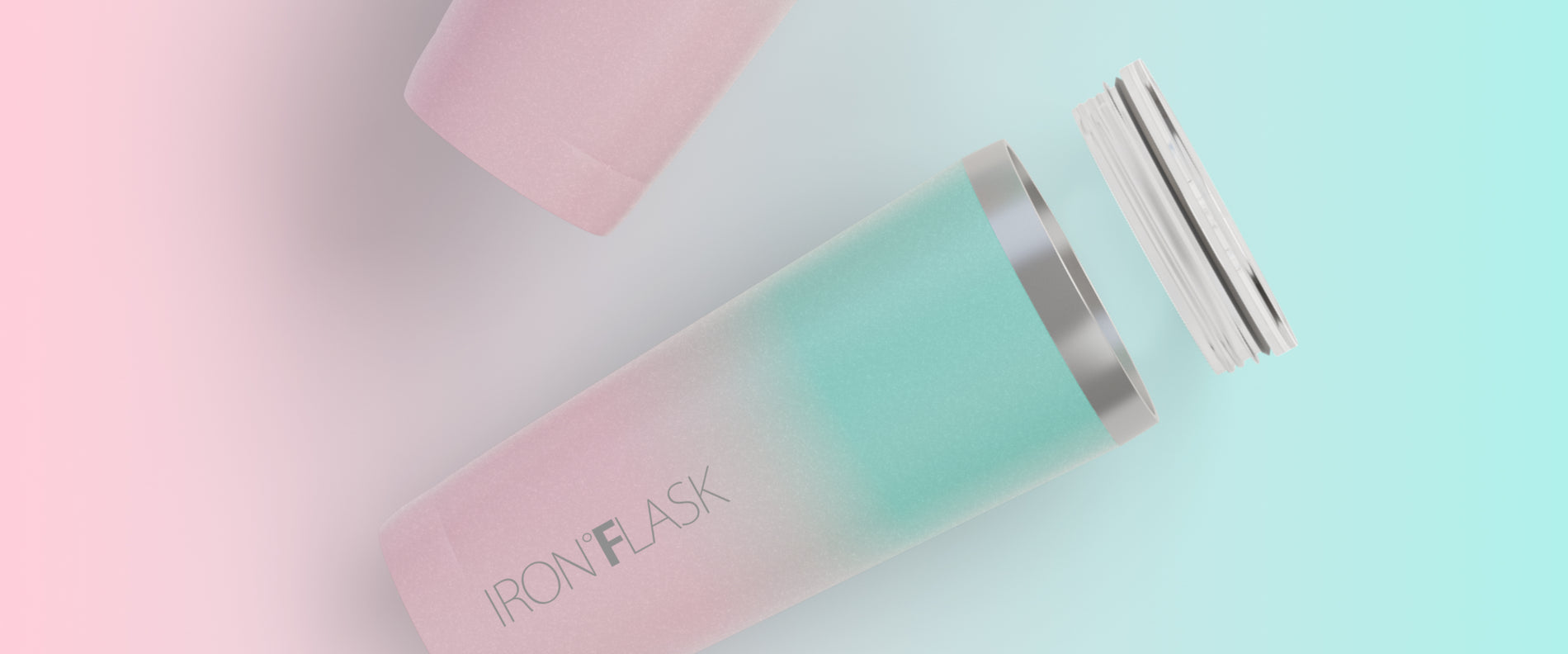 Technical Specs
Empty weight w/o lid: 1.0 lb (0.45Kg)
Bottle base: 2.8 in (7.11cm)
Bottle height: 6.8 in (17.27cm)
Mouth diameter: 3.5 in (8.89cm)
In the Box
20 oz classic 2.0 tumbler
Splash-proof straw lid
2 BPA-free straws
Leak-proof flip lid
Additional Info
The Iron Flask 20 oz classic 2.0 tumbler is made from high-grade, non-toxic 18/8 stainless steel, which never rusts and never imparts a metallic flavor, while the powder-coated finish keeps your tumbler cup away from dents and scratches while looking elegant as ever. Find one in a color that matches your style and stand out from the crowd. Hand wash only with soapy hot water to keep it looking like new even longer.