Why Stainless Steel Water Bottles Are the Best Water Bottles for Kids
This school year, help your family ace their daily water drinking goals with a kid's water bottle, the practical and affordable solution to ensure every member of your family is...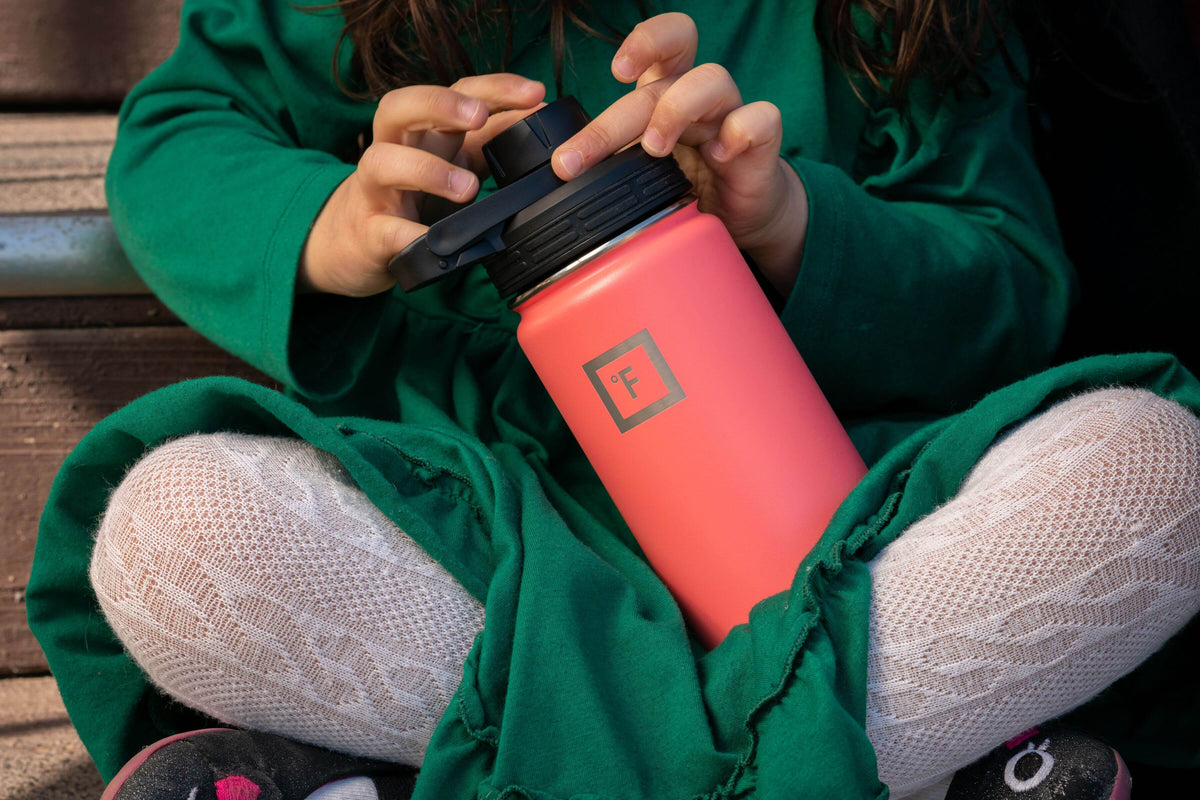 Why Stainless Steel Water Bottles Are the Best Water Bottles for Kids
This school year, help your family ace their daily water drinking goals with a kid's water bottle, the practical and affordable solution to ensure every member of your family is...
This school year, help your family ace their daily water drinking goals with a kid's water bottle, the practical and affordable solution to ensure every member of your family is healthy and hydrated.
Why Your Kid Should Start Using a Stainless Steel Water Bottle
Whether your family needs a kid's water bottle for school, during virtual music lessons, social-distant hikes, or the daily commute, a high-quality stainless steel model makes day to day water intake as easy as 1-2-3. A steel water bottle for kids can keep your little ones happy and hydrated, at home or on the go. For more on Children's Hydration 101, here are the ABC's of why insulated stainless steel is the best water bottle for kids:
A Healthier Hydration Option
Not only is hydration important, but the type of drink also makes a difference. There are many different options for kids' drinks, but many of them contain a high amount of sugar, which can lead to health problems over time such as diabetes, obesity, and tooth decay. Don't let your kids flunk out on health with sugary drinks — a kids insulated water bottle encourages them to drink more water and fewer sodas. And stainless steel is the best material for a kid's water bottle because they're non-toxic with BPA-free durable plastic lids.
Stocking your home with BPA-free reusable water bottles for kids will also prevent dehydration by making it easy to access water anywhere, anytime. And with symptoms like headaches, fatigue, dry mouth, and muscle cramps, dehydration is no fun. How much water a child needs depends on many factors — including what sorts of activities they're up to, their age, and the weather or other environmental influences. But as a general rule, pediatricians recommend between 7 to 14 cups of water for children ranging in age from 4–18. Find the approximate amount of water your child needs with this handy chart.
A kid's spill-proof water bottle with fun, personalized decorations is a must-have for every back to school wardrobe. Make it even more extra when you encourage your kids to jazz it up with decals, art supplies, and more. With different stickers to choose from, such as inspirational sayings and seasonal decorations, kids can turn their bottle into a creative project that brings out their artistic side. Available in a wide range of fun colors, from eye-catching pastels to classic neutral shades, a stainless steel water bottle can also be easily coordinated with any outfit.
Benefits of Stainless Steel Water Bottles for Kids
The best water bottle for kids is a stainless steel model with double-walled vacuum insulation. That way your kids can enjoy icy cold drinks or warm beverages that stay the right temperature, all day -- whether at school, at home, or on the go. Here are some other reasons why a steel water bottle for kids is at the top of its class:
With a kid's stainless steel water bottle, your family can steer clear of water fountains — a good habit for everyone during COVID-19. In fact, when it comes to health and safety, a high-quality kid's water bottle gets an A+. Stainless steel never rusts and can be easily sanitized with a bottle brush and warm, soapy water. In contrast, water fountains can carry dangerous bacteria like Influenza A and norovirus, with water coming from unfiltered municipal sources typically. tap water is not filtered. But when you invest in a kid's reusable water bottle, you can maintain the highest standards of cleanliness and also keep it filled with high-quality filtered water at just the right temperature.
The lightweight stainless steel body for your kid's bottle can be accessorized for easy portability. Try one with a sturdy handle and a carabiner for a simple solution that's as easy as carrying and clipping the bottle onto your child's backpack. For more convenience, a kid's water bottle can also be upgraded with accessories like a paracord handle, which provides more storage options, as it can easily be hung from backpack straps or day bags, and includes extra survival tools like a compass and whistle.
A reusable water bottle for your kids also saves money, especially if you buy one for every family member. Available at an affordable price point of around $20, high-quality stainless steel water bottles for an average size household are a cost-effective investment that will lead to a significant amount of savings over the years. In fact, according to one study, a household of four can save $123,000 in 5 years just by using reusable water bottles every day. Buying plastic water bottles might be the most convenient option when you're out and about, but the costs can add up over time, especially if it becomes a daily habit.
Along with the savings, encouraging your family members to use stainless steel water bottles means less plastic ones harming the environment — and that's something you and your kids can feel good about. The persistent problem of plastic pollution can seem overwhelming when you look at the research and statistics. But living a more sustainable lifestyle gives you the chance to inspire not only your own family but also friends and coworkers — either IRL or through social media. With a reusable stainless steel water bottle for your family, the formula for sustainability is easy: Reduce, reuse, drink water, repeat!
Customized Kid's Water Bottle Accessories
The best insulated water bottle for kids can be customized with interchangeable lids and accessories to accommodate your family's different activities and hydration needs.
For high impact exercises like running around on the playground or playing sports, a kids water bottle with a straw provides fast, easy access to icy cold water. The straws can also be trimmed with scissors for the perfect length. Cleaning and sanitizing is also a breeze with the straw cleaning brushes, which are included in the replacement lid sets.
A more versatile hydration option is the kid's water bottle with a spout, which is designed to provide drip-free access to both hot and cold drinks. Simply switch out the lids and your kids can enjoy warm beverages in the cooler months and ice cold water in hot weather. With a selection of replacement lids available for Iron Flask bottles, you also don't need to worry about lost or misplaced parts.
When you buy reusable water bottles for your family, let the network of love spread far and wide as you and your kids influence others to join Team Sustainability. Shop for an Iron Flask water bottle and take the first step in promoting a lifelong appreciation for health, hydration, and sustainability in your kids today!