10 Reasons Why Iron Flask is the Best Water Bottle Brand
If you are looking for the best water bottle, look no further than the best-selling product line from Iron Flask. Built for top performance, dependability, and convenience, the ...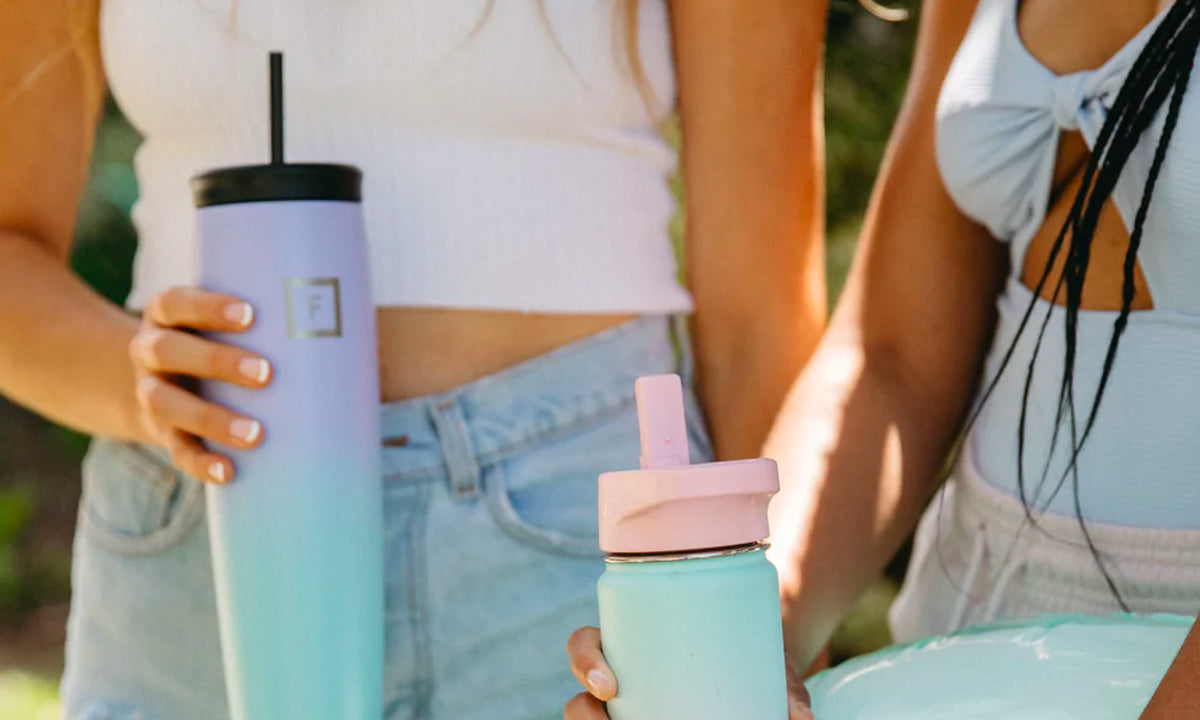 10 Reasons Why Iron Flask is the Best Water Bottle Brand
If you are looking for the best water bottle, look no further than the best-selling product line from Iron Flask. Built for top performance, dependability, and convenience, the ...
If you are looking for the best water bottle, look no further than the best-selling product line from Iron Flask. Built for top performance, dependability, and convenience, the best insulated water bottle includes all the features you need for dependable hydration.
Shop for Your Own Iron Flask Water Bottles Today!
1. Three Additional Leak Proof Lids at No Extra Cost
The best water bottle with straw product line from Iron Flask has even more value since it comes with three extra lids at no additional cost. With the already affordable price, the different lids give you the most convenience for your money, allowing you to adjust your water bottle to fit all your needs.
The straw lid wide mouth bottle comes with a straw lid, which is ideal for icy cold hydration with its drip-free design and fast sipping action. The additional stainless steel lid has a screw-on top, which gives you 100% leak proof reliability and an easy method for filling up with drinks. The third lid has a flip-top design with low-profile snap closure, making it perfect for sipping on hot beverages like tea or coffee.
2. Top-rated Customer Service
At Iron Flask, we care about our customers, which is why every purchase comes with a 100% satisfaction guarantee. If you have issues with ordering, shipping, or manufacturing defects, contact us and we'll be happy to assist you in any way. Your satisfaction is our #1 priority, and that means you can count on us to respond quickly and help make your Iron Flask experience a positive one.
3. Environmentally Friendly
Single-use plastic is terrible for the environment, and even if you recycle plastic bottles, only 8% are converted into an equally usable product. The rest gets incinerated in landfills or ends up polluting rivers and oceans. If you care about the environment, investing in the best gallon water bottle or another size Iron Flask is a great way to say no to the plastic industry.
Every time you use your reusable Iron Flask water bottle, you can feel good that you're not participating in the consumption of common single-use plastics which have a life cycle that is bad for the environment from start to finish.
4. Lifetime Warranty
At Iron Flask, we've thought of everything when it comes to convenience and durability, a testament to the top performance of all our products. That's why every Iron Flask purchase comes with a lifetime warranty. We are 100% committed to your complete satisfaction, which is why we will provide a replacement or issue a refund if your Iron Flask has any manufacturing defects. If you have any trouble, please send us an email at support@ironflask.com — we've got you covered.
Please keep in mind that the warranty only covers manufacturing defects, which doesn't include damage from improper use or cleaning practices, wear and tear, or modifications. For more information on proper cleaning and sanitizing your Iron Flask, check out our Care page.
5. Functional Built-in Features
The Iron Flask was designed to be the best travel water bottle, which is why the different models are built with integrated handles on the lids. The useful built-in handle gives you an easy grip along with additional storage options when you're on the move. With the included carabiner, you can easily clip the handle lid onto loops on your backpack or other gear. Or use the handle lid for easy access and a secure grip when you're holding it in your hand.
Many of the Iron Flask models also have a cup-holder-friendly design, giving you even more storage options when you're out and about. Easily keep your bottle secured in your car, bicycle, backpack, or other common places with built-in cup holders.
6. Premium Materials
Iron Flask makes the best reusable water bottle using premium materials like double-walled vacuum insulated stainless steel. This advanced technology helps keep drinks hot or cold for hours, allowing you to enjoy your beverages at exactly the right temperature. Our bottle's stainless steel body is ultra-durable, lightweight, and easy to carry.
Stainless steel is also non-toxic and doesn't have any flavor transfer, so your drinks will taste exactly as they should. Good water bottles are also easy to clean, as stainless steel never rusts and can be sanitized with a bottle brush and hot, soapy water. Still need a reason for why we know Iron Flask is the best reusable water bottle? Our BPA-free plastic lids and straws are safe to use and dependable for the long haul.
7. Useful Accessories
Iron Flask is known for going the extra mile, and that includes our product and accessory design. In addition to our collection of top-notch insulated bottles, tumblers, and food containers, we also have a selection of bottle accessories that maximize convenience and durability:
Protective boot. The highest rated insulated water bottle, the Iron Flask can also be upgraded with affordable accessories, making a great product even better. Available for 12 to 24 oz and 32 oz to 40 oz wide and narrow mouth bottle sizes, the protective boot comes in different colors, giving your bottle a stylish look while also protecting it from scratches and dents. The scratch-free, flexible silicone provides a protective layer between surfaces and is easy to remove for cleaning. The BPA-free silicone gives it a steady and secure placement, working as a built-in coaster. Another benefit is the streamlined design that fits easily into most cup holders and keeps the area clean.
Paracord handle. A must-have accessory for the wide mouth water bottle is the paracord handle, the ultimate upgrade for any and all adventures. Be ready for anything with handy survival tools that come included, such as a fire starter, compass, and whistle. Whether you're braving the outdoors or out and about in the asphalt jungle, the lightweight yet indestructible 550 + 330 kernmantle rope handle makes it easy to carry wherever you go.
Replacement lid sets. If you've misplaced your Iron Flask lid, that's no problem. Our lid sets for wide and narrow mouth bottles come with four replacement straws, two lids, and two straw cleaning brushes for easy sanitizing. The spout lid replacements are also available in a two-pack set. Keeping any size bottle squeaky clean and sanitized is also easy and convenient with our specially designed cleaning brush, which has a powerful scrubbing action and long handle.
8. A Variety of Options for Style and Function
There are many reasons why Iron Flask has the best water bottle. With many different colors available, from eye-catching pastels to classic shades, Iron Flask makes it easy to coordinate your bottle to look stylish with your everyday gear. Also available in the Iron Flask product line is the one-gallon water bottle for when you need a large amount of dependable hydration. Also available are a line of different sized tumblers and mugs, which are designed for enjoying hot beverages with convenience and style.
9. Save Money
There are many reasons to use the best insulated water bottle from Iron Flask instead of the plastic variety. Not only is it terrible for the environment, but it's also expensive, especially if you depend on it as your main source of hydration.
When you do the math, an Iron Flask water bottle is a great investment that will save you money in the long term. While it might not seem that significant on a day-to-day basis, the savings over the months and years is huge. In fact, researchers from Penn State University found that the average individual can save $1,236 per year and $6,180 over five years by ditching single-use plastic water bottles; a family of four can save $123,000 over five years.
By not being part of the plastic bottle sales funnel, you're also reducing the amount of trash that cities and local governments will need to recycle or incinerate. Consequently, a reduction in plastic waste can impact the economy in a positive way with an increase in wages, sales, and goods and services.
10. It's Better for Your Health
Plastic bottles might be convenient when you need fast hydration on the go, but the reusable stainless steel variety is non-toxic and chemical-free, making it the better option for both your health and the planet. The problem with plastic bottles is that they contain BPA, a common chemical found in single-use plastic. Many studies have documented the dangers of BPA, including links to infertility and metabolic disease.
There are many reasons why Iron Flask is considered the best water bottle by many happy customers. Along with a long list of top-rated features that are built to last and perform like no other, you can also expect the most affordable price — making Iron Flask the best insulated water bottle brand out there. Iron Flask is simply the best when it comes to convenience, affordability, health, and sustainability. Get yours today!