Why You Should Carry a Water Bottle For Your Pets
An essential item for your pet care checklist, a pet water bottle will keep your fur baby hydrated with fresh water whenever and wherever they need it. Keep a pet travel water b...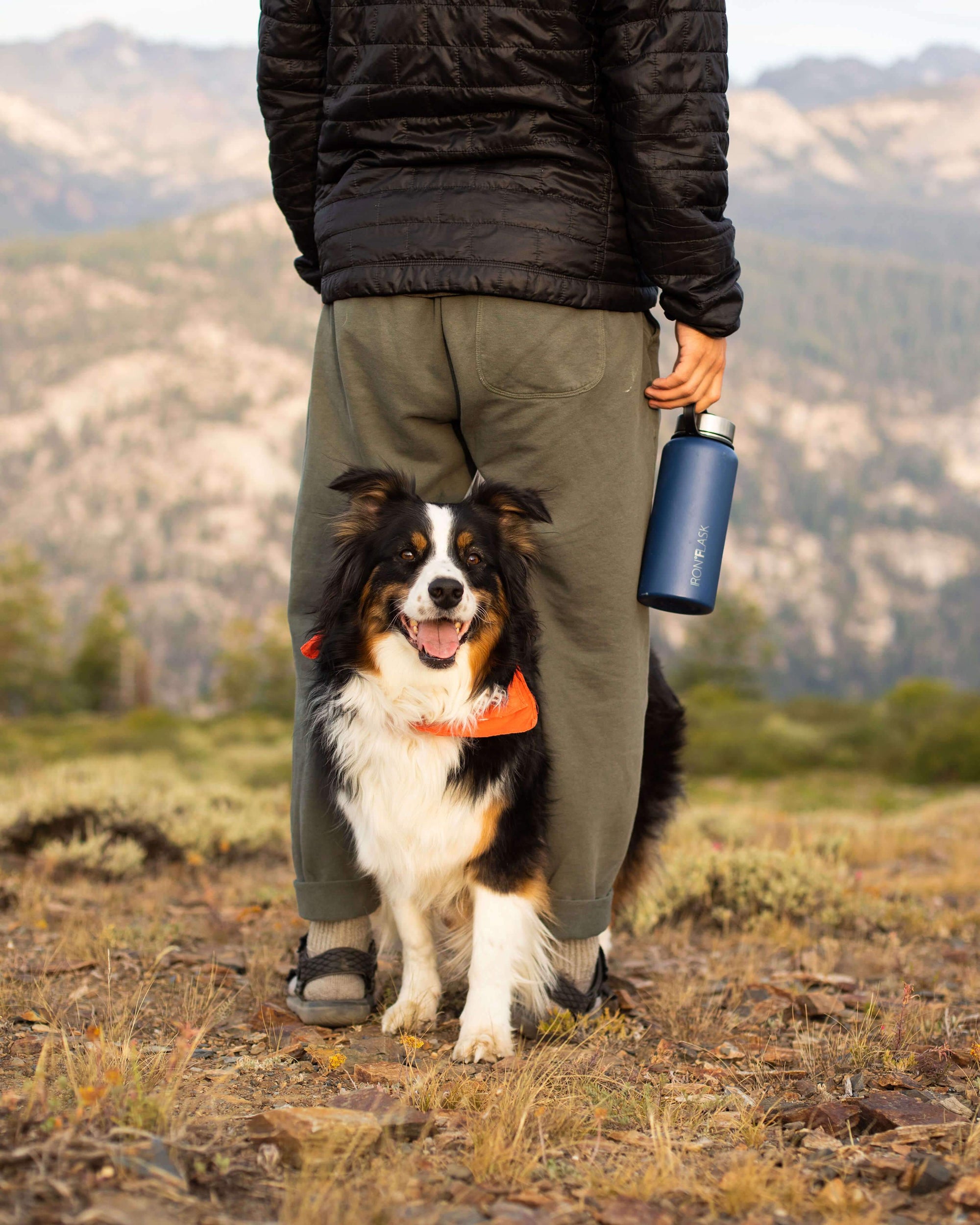 Why You Should Carry a Water Bottle For Your Pets
An essential item for your pet care checklist, a pet water bottle will keep your fur baby hydrated with fresh water whenever and wherever they need it. Keep a pet travel water b...
An essential item for your pet care checklist, a pet water bottle will keep your fur baby hydrated with fresh water whenever and wherever they need it.
Keep a pet travel water bottle filled with fresh, filtered water and follow these tips for traveling with a dog or cat to ensure your next trip goes smoothly from start to finish. We've outlined some expert tips, including: How to choose the best pet water bottle for hydration on the go; signs of pet dehydration; and more.
'Bone' Voyage: How To Travel With a Dog or Cat
When traveling with your pet, every form of transportation has its own set of challenges. But as long as you plan ahead and consider all their needs, it doesn't have to be a 'ruff' ride. Here are some pro tips for keeping them safe and comfortable in any scenario — on a flight, traveling by boat, or taking your first road trip together.
Airplane
Before your trip, make sure to check with the airline for the latest policies on pet travel. Some airlines allow small dogs and cats in special carriers to travel under the seat in the cabin while other restrictions only let pets in the cargo hold. While it might seem ideal to have your pet with you during the flight, experts from the CDC point out that the cargo hold is actually the best option. Not only is it temperature controlled for maximum safety, but cats and dogs can rest and relax better in a quieter and darker area.
For international travel, many countries require different types of paperwork such as vet records showing good health, rabies vaccines, and microchips. Some countries require a quarantine upon arrival that ranges from several days to several months. Check with the country you're traveling to and be sure to book a vet appointment before your trip.
Suitable carrier sizes & required supplies
You also need the right size container for your pet. According to the International Air Transport Association, airlines have kennel requirements to ensure the animal can turn around while standing, lie in a natural position, and sit or stand upright. Check out this PDF from the IATA for a complete list of container requirements. Once you find the right size carrier for your pet, food and water must be accessible from the outside.
For pets traveling in the cabin, the IATA advises checking in as late as possible to avoid spending any additional time in the hectic environment of a busy airport. If your pets are traveling in the cargo hold, check-in extra early to allow your pet to rest and relax in the quiet and dimly lit baggage area.
When traveling with pets on an airplane, climate and temperature are the most important considerations. As the experts from Worldwide Animal Travel explain, "Mellow temperatures and less destructive weather patterns are two main ingredients for a more relaxed dog or chilled-out kitty."
They recommend scheduling long trips during spring or fall when temperatures are mild. Before your trip, check the local forecast of both your departure city and destination. Depending on the temperature highs and lows, make sure your pet has access to extra water or a heating pad.
Expert tip: Don't sedate your animal during air travel because the change in altitude can increase the risk of heart or respiratory issues.
Automobile
When traveling with your pet in a vehicle, you should also keep them in a carrier to prevent them from roaming around and getting hurt or distracting you. For both dogs and cats, secure the carrier in the backseat to protect them from airbag deployment, which could cause injury in case of an accident. To keep the kennel from bouncing around and hurting your pet, secure it with a seat belt around the front. Here are some other do's and don'ts for a smooth ride:
DON'T transport a pet in an open pickup truck or allow them to stick their heads out the window. They could get injured by small particles of debris or become sick from too much air in the lungs.
DON'T leave your pet unattended in a car. Vehicles can heat up quicker than you think, and when temperatures start rising, the heat can become a serious health hazard.
DO stop frequently to allow your pet to eliminate and have some food or water.
DO bring a human travel companion so you can take turns getting food or using the facilities at rest stops while someone stays with the pet.
Boat
Whether you're setting out on a yacht, canoe, or other type of boat, bringing along your best furry friend can be a lot of fun; it's also Instagram gold with tons of adorable photo ops. Here are some tips to make boating with your dog a memorable experience:
Get the right gear. Outfit your dog with a canine life jacket for safety, plus plenty of water and food. Your dog will also need to relieve themself, so you can either train them to go on potty pads or pick up after them with disposable bags, paper towels, and cleaner. To prevent sunburn in short-haired dogs, you should consider applying natural mineral sunscreen.
Don't let your pet drink from the lake or ocean, which isn't safe for dogs. As the experts at Discover Boating point out, "Freshwater lakes are often contaminated from factories and boats…"
When traveling with a pet or taking them out for exercise, make them feel 'pawsome' by implementing these expert-recommended tips and bringing along a high-quality pet water bottle.
Benefits of Having a Stainless Steel, Insulated Pet Water Bottle
Now you know how to troubleshoot traveling with your pooch or other pet, and the importance of keeping them hydrated. But what about a bottle to carry water?
When shopping for a bottle, look for a durable product that is also lightweight and convenient to use. We recommend a stainless steel pet water bottle, made of safe and easy to clean materials. Here's why stainless steel bottle options like Iron Flask are our go-to:
Durable - Built to last, stainless steel never rusts, making it easy to keep clean and sanitize with warm, soapy water and a bottle brush.
Healthy hydration - Non-toxic stainless steel and BPA-free plastic lids won't leach toxins into water, so you can rest easy knowing your pet is drinking clean water with no funny stuff.
Safe hydration - A stainless steel pet dog water bottle is more sanitary than allowing your dog to drink out of water bowls at dog parks or sidewalk curbs.
Convenient - Investing in a pet travel water bottle provides fast access to water for your pets anywhere, anytime.
Travel-friendly design - Lightweight stainless steel and lid handle makes it easy to carry a bottle when you're on the move.
Customizable with practical add-ons - It's easy to personalize your pet water bottle to meet your daily needs. Try a carabiner for extra storage options, a protective boot to safeguard the exterior, and more.
Hydration Tips for Dogs and Other Pets
Adequate hydration is important for all animals, and dogs especially should have access to lots of water whether at home, on walks, or running around the dog park. Here's how to make sure your pets are getting enough water, and the top signs of pet dehydration to watch out for.
How Much Water Does Your Dog Need?
Similar to humans, the amount of daily water intake your pet needs depends on several factors. If you're going for a leisurely walk, your dog won't be as thirsty compared to high impact exercise like running. Other factors such as weight and size also play a role in hydration. To make sure your dog is sufficiently hydrated, the best dog water bottle for running is the 32 oz pet water bottle, which provides enough water for all your activities. Although it might be difficult to keep track of your dog's water intake, as a general rule, most breeds need an ounce of fluid per day for each pound of body weight.
Signs of Dehydration in Pets
Your dog can't tell you that they're thirsty, but there are some signs of dehydration that you should be continuously monitoring when going for walks or runs. Investing in a dog water bottle for walking is essential for preventing dehydration — a dangerous condition in pets which can lead to reduced energy, panting, dry nose, and vomiting. Other signs to look out for are loss of appetite, sunken, dry-looking eyes, and thick saliva.
An easy way to test for dehydration is to check for loss of skin elasticity, a tell-tale symptom of dehydration in dogs. Vets with the American Kennel Club suggest gently raising skin near the shoulder blades up and then letting it go. If it instantly falls into place, your pooch is well hydrated. If the skin takes longer to snap back, your pet is likely dehydrated and you should get them to drink some water.