Tips on Finding the Best Reusable Water Bottle for You
How to Choose the Best Water Bottle for You With increased advocacy for a cleaner planet and sustainable products has come a swell of reusable water bottle options for the savvy...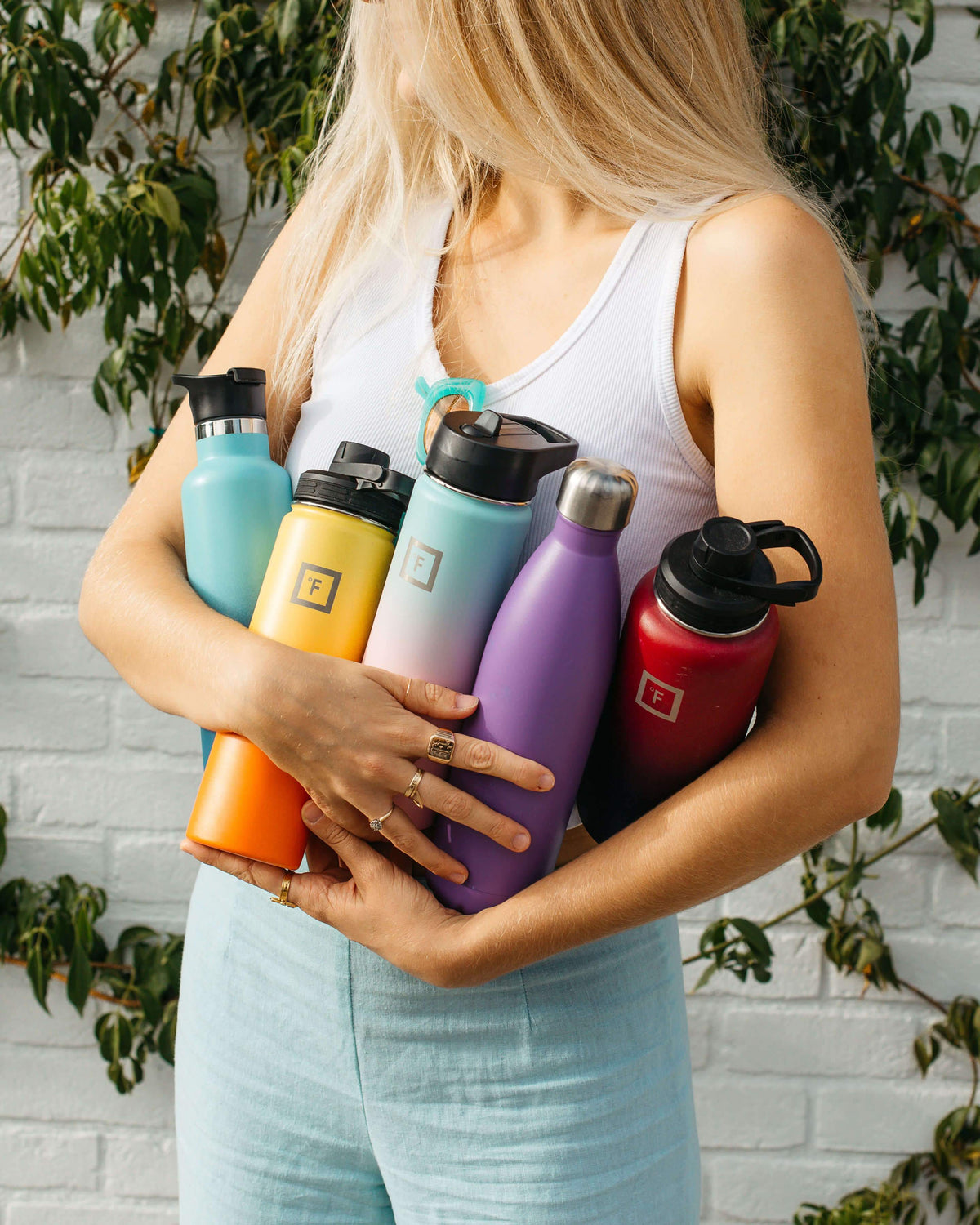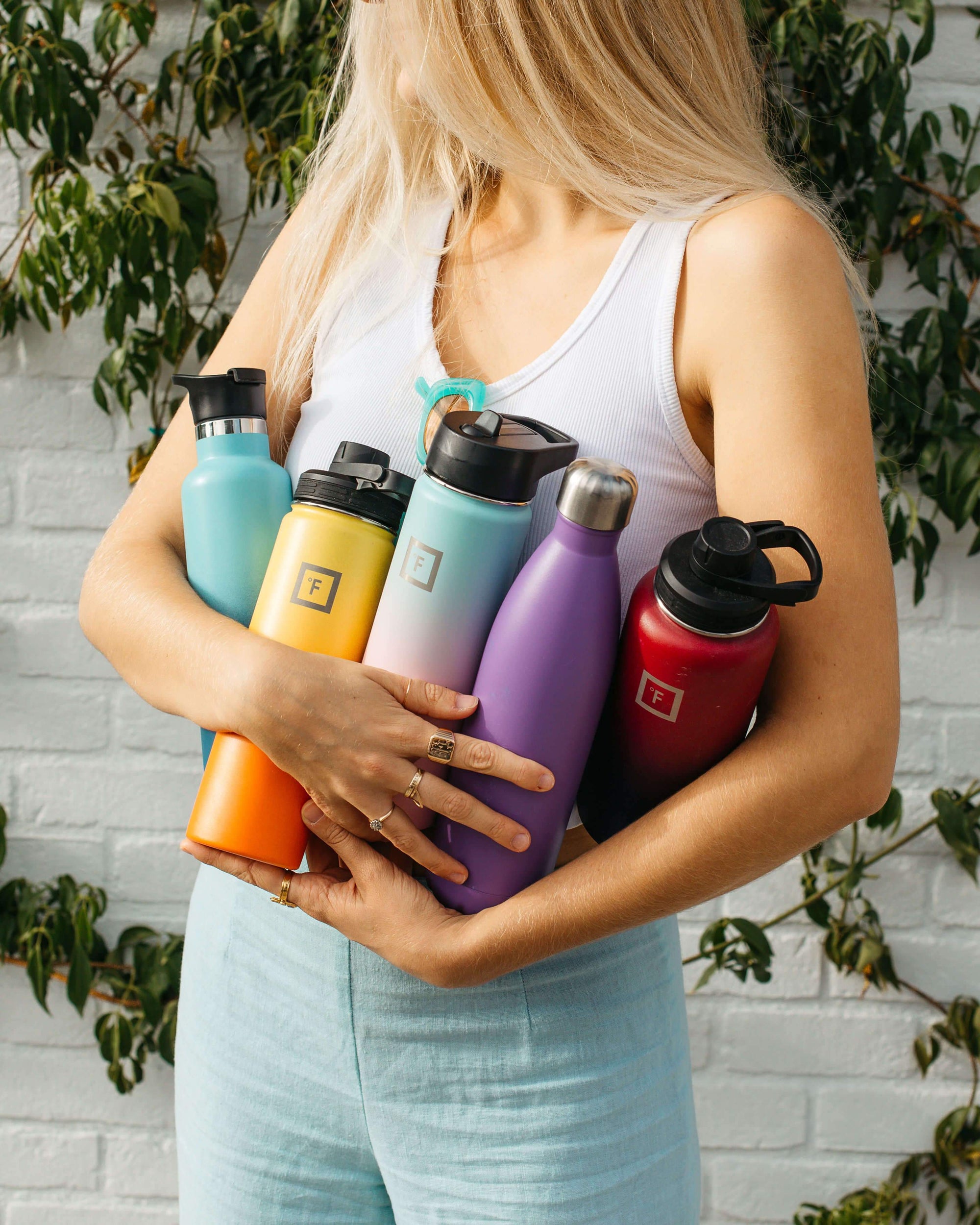 Tips on Finding the Best Reusable Water Bottle for You
How to Choose the Best Water Bottle for You With increased advocacy for a cleaner planet and sustainable products has come a swell of reusable water bottle options for the savvy...
How to Choose the Best Water Bottle for You
With increased advocacy for a cleaner planet and sustainable products has come a swell of reusable water bottle options for the savvy consumer. If you're feeling overwhelmed (which is understandable!), Iron Flask is here to help – we're experts in the business. Let us help you figure out how to choose water bottle products that work for you. Here, we've put together our comprehensive water bottle buying guide that outlines everything you need to know, including:
What is a reusable water bottle?
Benefits of reusable water bottles
What is the best material for a water bottle?
What to look for in a water bottle?
You'll also learn water bottle tips on how to choose the best reusable water bottle for convenience and durability. Let's get started.
What is the Best Water Bottle Material?
When considering the best water bottle, one of the most essential questions is: What is the best material for a water bottle? The answer will always be premium 18/8 stainless steel, which has a long list of benefits.
Non-toxic: Stainless steel is non-toxic, making it a better choice for your body compared to the plastic bottle variety. In fact, BPA, a common building block of single-use plastics found in water bottles and other everyday products, has been found in numerous studies to have harmful effects on the reproductive systems of humans and wildlife. This is why Iron Flask makes our line of best-selling stainless steel water bottles with high-quality BPA-free plastic lids that are dishwasher safe. For healthy, sustainable hydration, the ideal option is obvious – non-toxic stainless steel water bottles with BPA-free lids are the better choice for your health and the planet.
Durable: Another benefit of stainless steel is its durability. It never rusts, making it easy to keep clean and looking like new. Stainless steel also has no flavor transfer, giving you a clean, fresh taste with any beverage. 
Insulated: A good bottle provides temperature stability through smart insulation. Our stainless steel bottle design with vacuum insulation does just that. We recommend choosing one with double walled design, which is lightweight and easy to carry while also maintaining the temperature of hot or cold beverages for hours. The insulation is also substantial enough to prevent any sweating on the exterior, giving you a secure grip when you're going from place to place. 
In addition to choosing the right water bottle material, it's important to consider other features and details, such as the quality of the exterior. When shopping for the best reusable water bottle, every part of its anatomy should use the highest quality materials and be constructed with functional design for top performance. To maintain a shiny, just-like-new look, the Iron Flask line of water bottles have a powder-coated finish available in a variety of fun and stylish colors. We've gone the extra mile with a laser-engraved logo that will never fade or lose its high contrast sheen.
All of these tips, of course, apply to all types of reusable wares, not just water bottles. For high quality products that promote sustainability and are just plain better for you, consider investing in kitchenware such as the Iron Flask tumbler. Perfect for sipping hot beverages like coffee or tea or transporting soup on the go, its curved shape makes it easy to hold while also having a convenient cup holder-friendly design. Its clear press-in lid and spout with a sleek profile minimizes the chances of spilling. Like the best selling Iron Flask stainless steel water bottle, the tumbler is also designed with a double wall of vacuum insulation, which keeps temperatures hot or cold for hours. Versatility is another great feature of the coffee tumbler, with a lid that can also be fitted with a BPA-free plastic straw for enjoying cold drinks at home or on the go.
The Best Water Bottle Lids
To maximize your reusable bottle's convenience and practicality, we recommend keeping several different lids in your kitchen (plus a few extra for backups). You'll never have to search high and low for the matching lid to your favorite water bottle. Just grab one of the extra lids stored in a designated, easy-to-find spot in your kitchen, grab your other essential gear, and you're all set for your daily adventures.
Along with quality and durability, the best reusable water bottle should also include additional lids and accessories, such as the best-selling Iron Flask stainless steel Wide Mouth collection. Each lid has practical functions that are designed specifically for enjoying certain types of drinks, from icy cold sports drinks to piping hot beverages. Having different lids for your water bottle makes it easy to adjust its specific functions to best accommodate your day-to-day needs.
The best lid for fast, drip-free access to cold drinks is the flip-top lid with a straw. Also BPA-free and dishwasher safe, the straw lid water bottle is perfect for when you're on the move. Whether you're on a walk or on your bicycle, the flexible straw can be cut to any length, giving you fast hydration with no mess or drips.
The other spout lid is designed for sports drinks and other cold beverages; it features a durable built-in handle that makes it easy to carry. Finally, the wide mouth bottle with the screw on stainless steel lid is also a great option, especially since you can depend on its leak-proof design and wide mouth top, allowing you to easily pour in liquids and take big gulps when you need them.
Other Top Water Bottle Features to Consider
So you know what type of material and lids you're looking for in your ideal reusable water bottle. But what about other features? Accessories, size, customization, and warranty are other important considerations in getting the best reusable water bottle for you.
Upgrade With Accessories
Get the most out of your reusable water bottle when you add on useful features such as:
Protective Boot: Our protective boots are designed in 2 different sizes, a smaller version for 14-22 oz bottles and one for larger bottle sizes such as 32 oz and 40 oz, the boot helps protect the stylish exterior from wear and tear with durable, scratch-resistant silicone. And just like all Iron Flask products, the protected boot is made from high-quality, BPA-free plastic and comes in a selection of fun and stylish colors to coordinate with your reusable stainless steel bottle.
Paracord Handle: A practical upgrade to any size stainless steel water bottle is the paracord handle, which provides additional options for hands-free storage and so much more. If you're going on a big adventure in the great outdoors, the paracord handle is designed with survival basics in mind and survives the elements. You'll appreciate the bundle of features, including a nylon cord handle that's useful for easy, dependable carrying and storage. Made with indestructible nylon rope that is made out of the highest quality ropes (550 + 350) and also used in spacecraft and parachutes, the paracord handle is also equipped with a carabiner, allowing for even more hands-free storage. With the paracord handle added to your water bottle, you'll be ready for anything, especially with a trio of included survival tools such as a fire starter, compass, and whistle.
Replacement Lid Sets: Never be without your trusted and reliable water bottle just because of a misplaced lid. With a replacement lid set available for the full line of reusable Iron Flask bottles, you can easily equip your kitchen with extra straws, lids, and straw cleaning brushes for daily sanitizing.
Choose the Right Size for your Needs
When it comes to the best water bottle, all sizes are not created equal. Different sizes are best for specific needs. Iron Flask, for example, finds our standard water bottle size – ranging from 14 oz to 18 and 22 oz – to be our most popular among customers, as these are lightweight but provide enough hydration for short day trips.If you're going to be working up a sweat or need access to drinks for longer than a few hours, bigger water bottle sizes – such as the 32 oz, 40 oz, and 64 oz Iron Flask – check all the boxes for dependable hydration designed for the long haul.

Personalize your Bottle
Once you've decided on the best reusable water bottle collection to keep in your kitchen, try making hydration a fun daily goal by personalizing your water bottle with decorative decals and stylish, coordinating colors. It will be easy to find and also make your bottle distinctively yours, especially with initials or other stickers with special significance.
Look for Warranty Coverage
You should also look for a product that comes with a lifetime warranty you can trust, like the Iron Flask policy that protects against manufacturing defects and damages during shipping. If the company believes in their products like we do, you can depend on the best quality customer service when you purchase from the line of best high-quality products.
Adequate hydration is an essential part of health and well-being. But even more important is the quality and convenient access to hydration, which is easy when you choose the best water bottle for your needs.