How To Start a 'Bring Your Own Cup' Habit
There's a reason why our single-use coffee culture is so prevalent; it's convenient, and people love their daily cup of java on the go. It's also much easier not to change habit...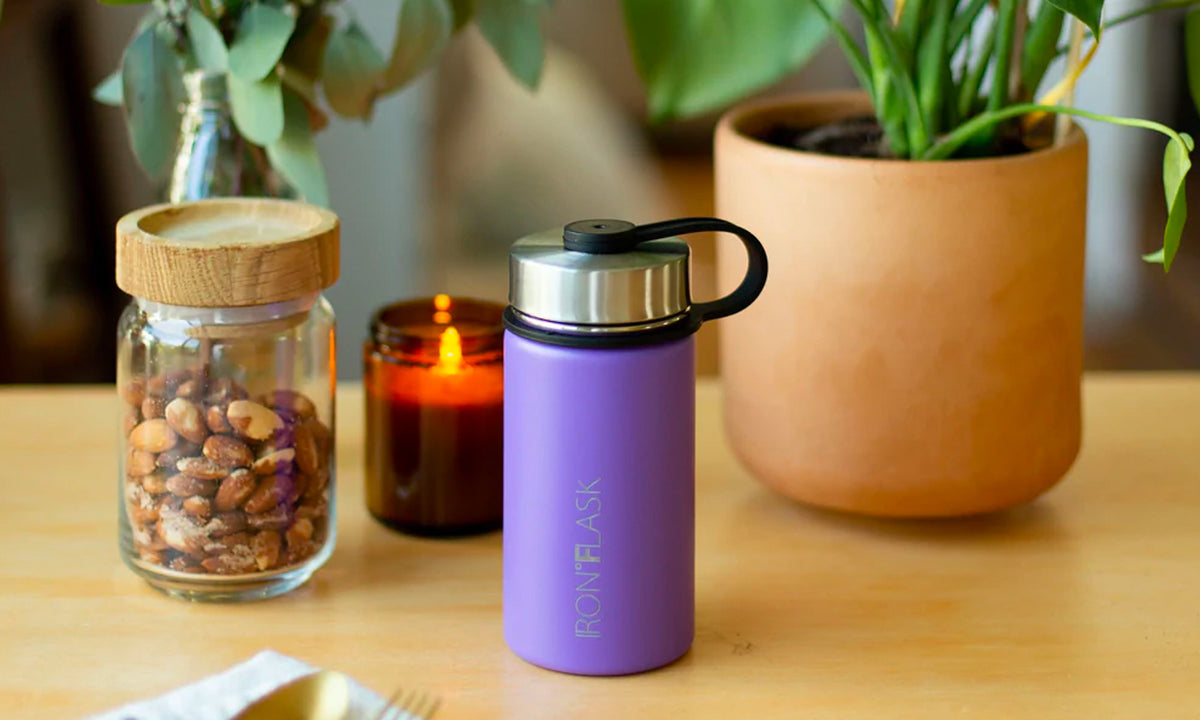 How To Start a 'Bring Your Own Cup' Habit
There's a reason why our single-use coffee culture is so prevalent; it's convenient, and people love their daily cup of java on the go. It's also much easier not to change habit...
There's a reason why our single-use coffee culture is so prevalent; it's convenient, and people love their daily cup of java on the go. It's also much easier not to change habits — especially with our beloved coffee, an essential for waking up in the a.m. or as a pick-me-up during the day. But perhaps you're trying to minimize your impact on the environment and want to start a more sustainable cup habit, one that doesn't rely on single-use cups. Congratulations! You're making a great decision. Follow these tips to easily ditch your disposable to-go coffee habit while also reducing waste and helping the environment.
The Anatomy of Disposable Coffee Cups
When you break down the anatomy of disposable coffee cups, every component from lid to cup has negative effects on the environment and human health. The most common types of disposable coffee cups are made with polyethylene coated cardboard. The building blocks of common plastics, polyethylene has been found in numerous studies to act as an endocrine disruptor, which can damage the reproductive systems in humans and wildlife. The plastic lids are also made from a similar type of chemical called polystyrene, another endocrine disruptor.
Consequently, both the lid and the cup aren't biodegradable and can't be recycled. Finally, the cardboard sleeve is made of recycled materials but can't be recycled again, resulting in 2.8 billion pounds of trash per year. The last part of its life cycle is spent at the landfill, where the plastic emits greenhouses into the atmosphere over time or through incineration.
Benefits of Reusable Coffee Cups
To understand the benefits of reusable coffee cups, you must consider the harmful environmental impact of disposable coffee cup waste. Out of habit, many on the go coffee drinkers go about their day without taking into account the high cost of our disposable coffee culture.
But when you make the choice to bring your own mug, it's a trifecta of positives for your health, the quality of your coffee, and the environment. Making this a daily habit also makes going reusable just as convenient as choosing disposable cups. Here are a few motivating factors to keep in mind as you start to develop your BYOM (bring your own mug) habit:
No more toxic materials. A reusable mug made with stainless steel, glass, or BPA-free silicone is better for your body and improves taste.
Reduce single-use plastic waste. It goes without saying that over the lifetime of your new reusable mug, you'll avoid using hundreds or even thousands of single-use cups, depending on the frequency of your hot beverage habit.
Enjoy hot drinks for longer. Stainless steel helps maintain temperature, so if you choose a reusable cup designed with double-walled vacuum-sealed insulation, your hot drinks will stay hot for hours.
How to Start a BYOM Habit
1. Stay Organized
It might be a real hassle to search your kitchen for the right reusable coffee cup with lids that fit. For those with a disorganized kitchen, it would be much easier to head out the door and order a cup of drive-through coffee. If you have trouble finding things in your kitchen, you don't need to reorganize every square inch. Simply designate a certain area for storing your to-go coffee mugs and make sure you always have a few clean ones ready to go. Another way to make it easy to find your coffee tumblers is to invest in a few models with bright colors or add your own decorative sticker decals. Also, buy several of the same kind and store them with interchangeable lids; that way, you'll never have to search for the right lid that fits on the appropriate coffee mug. There are many great coffee thermos options available online for you.
2. Keep It Clean & Sanitized
When you bring your own reusable cup, make sure you wash it with warm, soapy water as soon as it's empty or at least no more than 20 minutes after use. This will ensure that any perishable dairy products such as creamer or milk don't have time to produce harmful bacteria.
For the most thorough cleaning, use a bottle brush to scrub the hard to reach corners of the bottle and lid. Then, allow it to dry thoroughly before storing it in a designated, easy to reach area. If you've left your reusable cup in the car or your backpack for several days or longer, we advise cleaning it with stronger solutions such as vinegar and bleach. For more information on more intensive cleaning methods, check out the Iron Flask Care Tips.
Fun Activities For Using a Reusable Coffee Cup
Another way to develop a 'bring your own cup' habit is by combining your love of to-go coffee with your favorite activities:
1. Morning Walk
Some of the most brilliant and accomplished figures in history have purported their love of morning walks. For Charles Dickens, Steve Jobs, Aristotle, and many others, a walk was a time to ruminate on progress while also looking to future goals for the rest of the day, week, or month.
Following in the footsteps of the greatest minds, you can easily enhance your morning walk with the stimulating effects of coffee. And when you bring your own cup, you can feel good about not adding waste to landfills while also enjoying a better tasting to-go coffee at the perfect temperature.
2. Coffee Circle in the Park
While a solo walk in the a.m. is a great way to get centered, it's also nice to switch things up and create time for social interactions. When you reach out to your fellow coffee drinkers, make the 'bring your own cup' habit the main theme for the gathering. A coffee drinking get-together is also the perfect way to enjoy the peacefulness of nature while chatting with your nearest and dearest.
You can also take this idea beyond the park by scheduling a social circle at a nature preserve. When you bring your own cup of coffee with friends and family, you'll have more incentive to reconnect to the great outdoors and also protect the environment with less single-use plastic waste.
3. Coffee Breaks at Work
In today's fast-paced society, getting a coffee to go encourages the habit of drinking a cup while working or traveling. But stepping away from the desk and connecting with other employees over a cup of coffee is a great way to break up the day while boosting morale with caffeine and social bonding.
Tips for Remembering to Bring Your Own Cup
The 3-Minute Rule
You'll always remember to bring your own reusable cup when you use the 3-minute rule. Instead of running out the door and leaving immediately, tell yourself and anyone coming along that you have 3 minutes before departure to do a final check. This will give you enough time to make sure you have all your essentials such as your wallet, cell phone, keys, as well as the gear for the road like reusable coffee cups and other snacks. Whatever your activity, keep the same checklist in mind so that it becomes a habit every time you practice the 3-minute rule. If you rush out the door, you're more likely to forget something, which is why you should always take a few minutes to run through your list of must-haves before heading out.
If you forget to bring your own mug
Maybe you misplaced your reusable coffee mug or simply left it behind. Whatever the reason, it's hard to go without your daily to-go cup of java. In this scenario, we recommend reducing waste by reusing your disposable coffee cup. While not as durable, they can last a couple of uses before being thrown out. It's not ideal, but If it's only on occasion, it's a step in the right direction.
Other Tips
If you're out and about, you need more than coffee to stay healthy and hydrated, which is why we recommend applying these same strategies when you bring your own water bottle. Along with disposable coffee cups, plastic water bottles also contain harmful chemicals like BPA. Invest in a reusable water bottle to minimize your waste and ensure you always have a cup handy whether you're trying to stay hydrated, caffeinated, or just want to feel good about enjoying your favorite beverage in a sustainable cup.
The Takeaway
Show your support for environmentally-friendly coffee culture and encourage others to start this positive habit by hosting events and posting your favorite travel mugs on social media.