Essential Back to School Supplies for Your Kid
School is back in session, which means parents want their kids to be prepared to hit the books, stay healthy, and have some fun. All it takes is some good old-fashioned hard wor...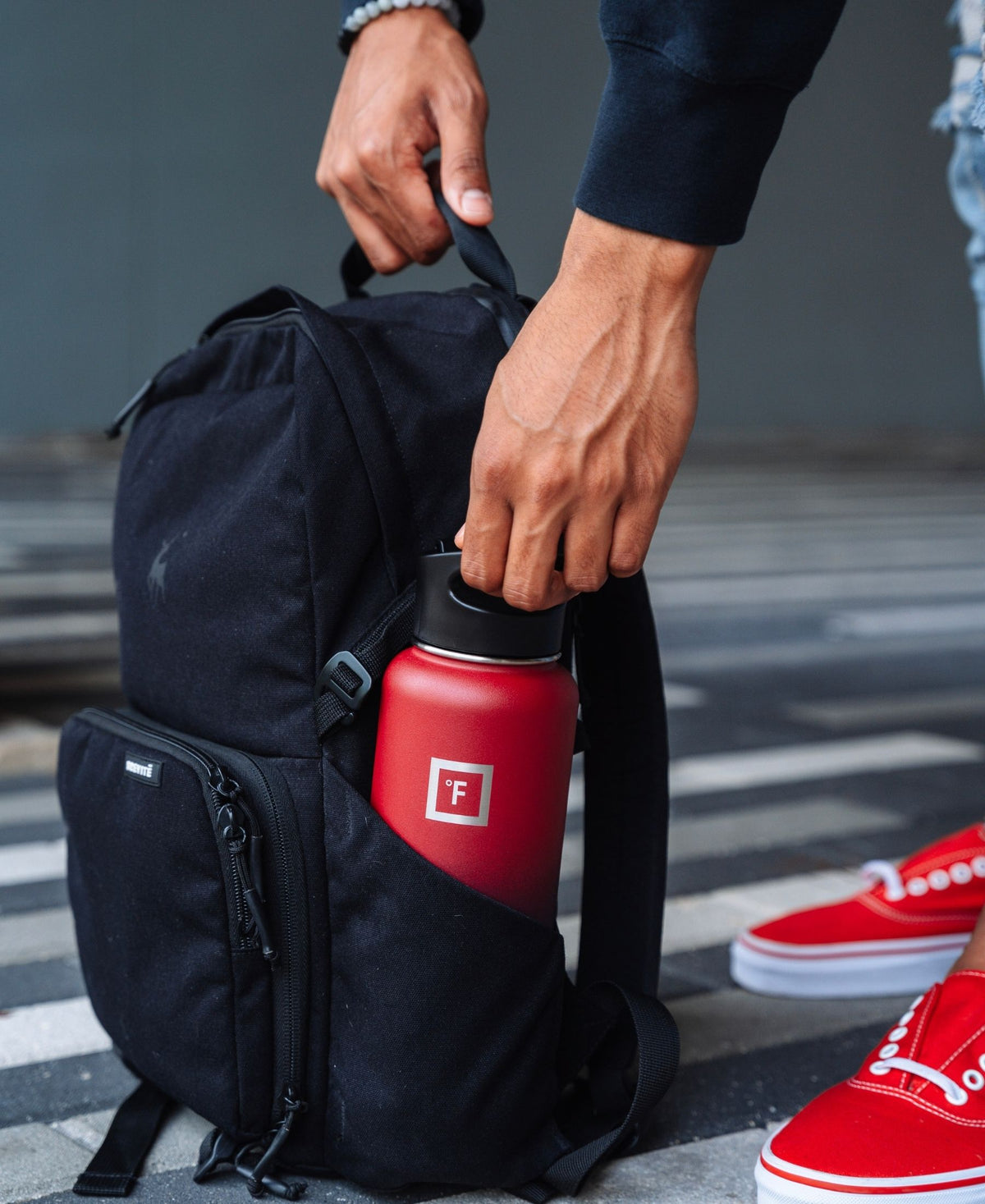 Essential Back to School Supplies for Your Kid
School is back in session, which means parents want their kids to be prepared to hit the books, stay healthy, and have some fun. All it takes is some good old-fashioned hard wor...
School is back in session, which means parents want their kids to be prepared to hit the books, stay healthy, and have some fun. All it takes is some good old-fashioned hard work, a positive attitude, and a checklist of back to school supplies to make sure your child is set up for success. This semester, get an A+ in being prepared when you include all of these essentials in this comprehensive back to school supplies list. 
Back to School Supplies
When it comes to the ABCs of back to school shopping, here are the most important things to include on your checklist for your grade schooler:
1) Cute Water Bottles for School 
We've included one of the most essential items on any back-to-school supplies list: kids water bottles for school. At Iron Flask, our line of reusable water bottles come in a variety of fun colors like Bubble Gum, Aquamarine, and more, which can be easily personalized with decorative stickers or other custom flair. Everybody knows that hydration is important, especially for kids and teens with active lifestyles. Mild dehydration can cause annoying symptoms like muscle cramps, fatigue, and headaches, getting in the way of concentration in class. And while water fountains are the usual choice for a cool drink of water, studies have found that they're a breeding ground for harmful bacteria. We're recommending a water bottle for grade schoolers, but we've found this is a must-have back to school item for kids of all ages. 
Benefits

: The easy and affordable solution is the 16 oz stainless steel water bottle from Iron Flask, which is made with lightweight non-toxic stainless steel and durable BPA-free lids. The

best water bottles for school

, the Iron Flask is not only safe but also sustainable, which will inspire your kid to start practicing a more eco-friendly lifestyle. 
Features

: It's also convenient and practical thanks to easy-grip handles and a sleek build that fits in most built-in cup holders found in backpacks, bicycles, and cars. This

leak proof water bottle for school

also has a double wall of stainless steel vacuum insulation, which keeps drinks icy cold or nice and warm for hours. For cold school days in the fall and winter, your child will also appreciate our

kids tumbler with lid

, which is ideal for safely sipping warm beverages like hot chocolate or tea.
2) Backpack 
For kids in grade school, there's a good chance they haven't hit their growth spurt yet, so it's vital that you help them choose a stylish backpack that not only has well-padded shoulder straps but also fits comfortably. Look for a backpack with an ergonomic design, sturdy construction, and a size that's large enough to carry notebooks and folders. Another fun add-on is a backpack with personalized embroidery featuring your child's name, a service offered by some backpack brands.
3) Name Tags
With all the fun and excitement of the first few years of school, kids are notorious for forgetting their stuff and leaving it behind. A practical solution is to put name tags on their belongings, from nap mats to lunch boxes. Write their name on sticker labels and place them on all their supplies; that way, when they misplace something, the lost and found process is straightforward. 
4) Pencil Case
Your kid's backpack might be big enough to fit notebooks and folders, but smaller items like writing utensils and erasers can easily get lost in the mix. That's why we've included a small pencil case as part of your back to school supplies must-haves. This handy case usually comes with a zipper and can hold all their pencils and crayons, keeping them in one easy-to-reach bag with other small items like a pencil sharpener, erasers, and more. 
5) Comfortable Face Masks
Whether or not your child's school requires one, a mask is recommended by contagious disease experts from the CDC. When worn correctly, covering the nose and mouth, a mask can protect from Covid-19 and other common illnesses, like cold and flu bugs, that spread easily in schools. But getting kids to wear them is a whole other matter. 
Two things to focus on are comfort levels and the fun factor. Choose face masks with adjustable straps and soft, lightweight material. According to the CDC, a mask will do its job as long as you can't blow out a candle when wearing it. If your kid needs more inspiration for keeping one on, they'll love the style of masks that can be colored in with fabric markers to create colorful and unique designs. 
6) Colored Pencils 
Along with classroom essentials like folders, notebooks, and writing paper, a pack of colorful pencils is another item for your back to school supplies checklist. Look for standard break-resistant graphite, like Bic Xtra-Fun Stripes #2 pencils, which get extra credit for latex-free erasers. 
7) Compact Reusable Lunch Box 
Growing kids have two jobs when they report to school every day — to have fun and learn — and they need a steady supply of nutritious food to do their best at both. A reusable lunchbox with separate compartments is an easy way to pack a healthy lunch with lots of tasty snacks. Look for one that is large enough to fit a sandwich, plus additional sections for cheese and crackers, carrot sticks, and other options packed with nutrition. 
8) Nap Mat 
Much to the envy of most teenagers, kids in preschool and kindergarten have the luxury of an afternoon snooze, so consider shopping for a nap mat or sleeping bag with a built-in pillow. Look for one with a compact design that rolls up and transports easily with built-in velcro straps. Your kid will stay warm and cozy with a lining made of 100% flannel cotton and vibrant colors that won't fade in the wash. 
Basic School Supplies for Teens
While teenagers also need items from the grade school list such as a reusable water bottle, sturdy backpack, and classroom essentials, their needs are slightly different, which is why we've added a separate section of cool back to school supplies for high schoolers. 
1) Toiletry Bag 
For teens, packing toiletries for a full day of school and extracurriculars can get more complicated than you're used to with younger kids, whose needs are pretty straightforward. Teenagers are dealing with changes to their bodies and want to look and feel good during what we all know can be an awkward phase. Add variables like gym class, marching band, and sports teams to the mix and the need for some extra freshening up is clear. 
A toiletry bag is handy to keep in a backpack, allowing other small items of importance not to get lost, such as medications, eye drops, and feminine products. You can also add screen or glasses cleaner wipes to keep glasses, phones, and other electronics clean and smudge-free. Facial mist and deodorant are easy additions to the toiletry bag and will come in handy after extracurricular activities that cause your teen to work up a sweat.  
Of course, the top priority is staying safe and healthy, so your kid's toiletry bag should include the basic anti-germ arsenal, including masks, hand sanitizer, and a travel-size pack of tissues. 
2) Stainless Steel Food Containers
Teenagers are notorious for their ability to scarf massive amounts of food. Add a sports team or other physical activity to the mix and you've got an eating machine. The popular saying, 'You're eating me out of house and home' probably originated from the millions of households with teenagers raiding the fridge and cupboards after school. While many school cafeterias offer healthy options like salads, teens' insatiable appetite might cause them to indulge in not-so-healthy options like fries, tater tots, and chicken nuggets.
One way to encourage healthy eating and sustainability is a set of reusable stainless steel food jars from Iron Flask. Compact in size and ultra-durable with double insulated stainless steel, these food jars are perfect for packing nutritious, high-protein snacks to help curb your teen's appetite. Our insulated food jars will keep their favorite entrees like pasta and soup nice and hot for hours while cold options like a grain salad or sliced fruit will stay fresh and chilled throughout the day. Our food jars also come with a foldable stainless steel spoon for added convenience. The stainless steel is also easy to keep clean and sanitized for daily use, allowing your teen to say no to single-use plastic and styrofoam containers over the course of the school year. 
3) Laptop 
Research papers might be overwhelming for today's teens, but a dependable laptop makes it a breeze with the help of high-speed Internet. Back in the olden days of outdated encyclopedias, note-taking and research required several trips to the library and browsing through actual books. But with a laptop and Wi-Fi, academic papers can be done in a fraction of the time. All students need is the right equipment, and a laptop with a long battery life that's light enough to carry easily in a backpack is essential for today's high schooler.
Prepare Your Kid With Back to School Supplies
This school year, get a gold star in parenting when you make back to school shopping a fun activity. Try letting your kids decide on their favorite styles and colors, ranging from essential gear like insulated stainless steel water bottles to cute back to school supplies like colored pencils.