7 Workout Gear & Gym Bag Essentials to Bring to the Gym
Every day at the gym is an opportunity to improve yourself, especially when you come prepared with workout gear essentials for a great workout. Staying hydrated is key, so a reu...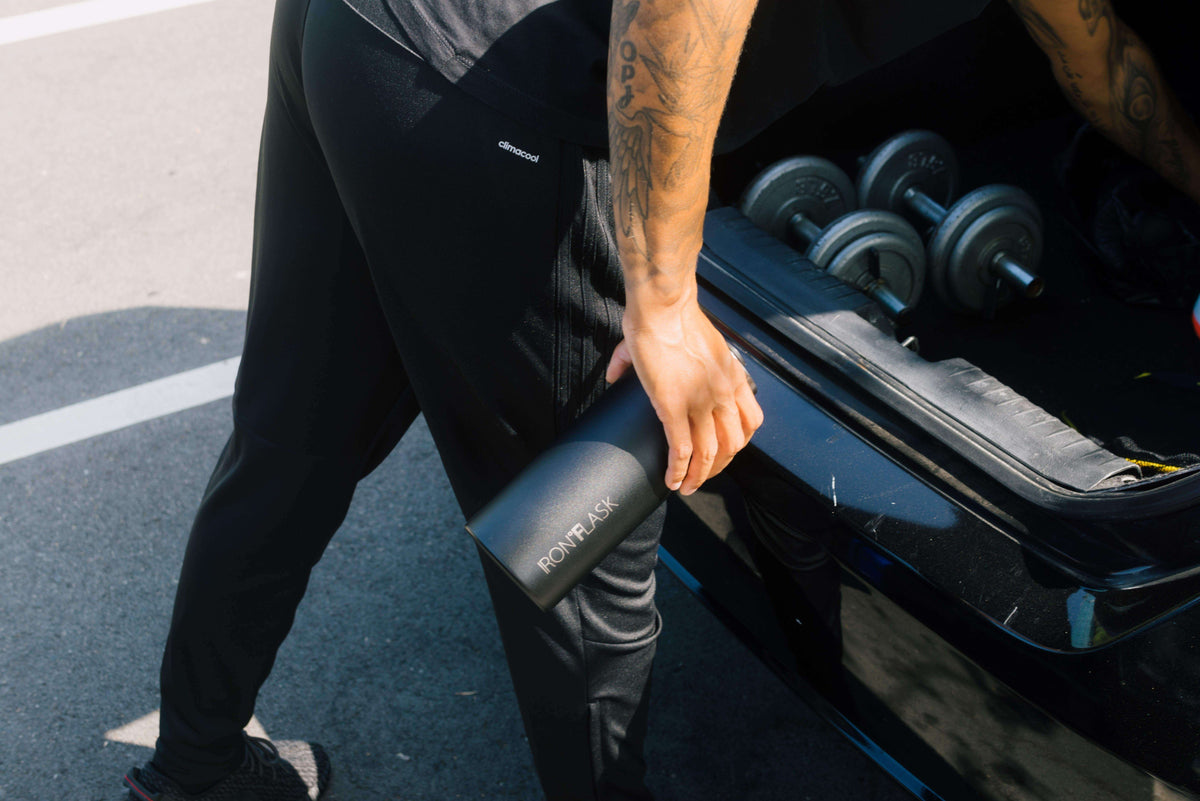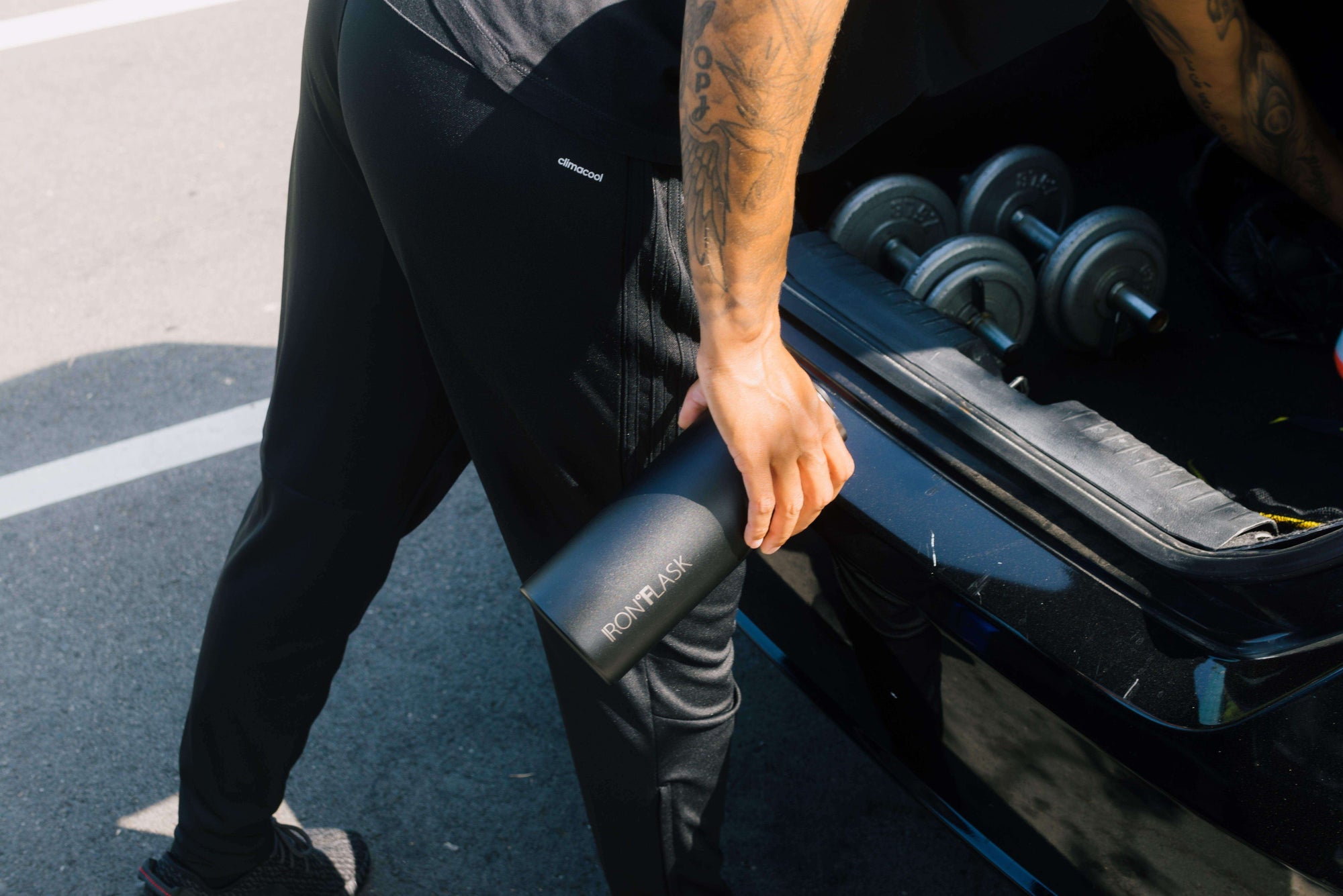 7 Workout Gear & Gym Bag Essentials to Bring to the Gym
Every day at the gym is an opportunity to improve yourself, especially when you come prepared with workout gear essentials for a great workout. Staying hydrated is key, so a reu...
Every day at the gym is an opportunity to improve yourself, especially when you come prepared with workout gear essentials for a great workout. Staying hydrated is key, so a reusable water bottle should be at the top of your gym gear checklist. Here are seven must-haves to keep in mind when asking yourself what to put in a gym bag.
Ready to exercise, sweat, hydrate, and repeat? Let's do this!
1. Reusable Water Bottles for Gym Workouts
Your checklist of gym necessities should include a stainless steel gym water bottle for fast and reliable hydration. When you work up a sweat at the gym, you lose water content in the body, including essential salts that need to be replaced. For intense workouts, fitness experts recommend adding a vitamin and electrolyte powder to your water, which will ensure that your body's water content stays balanced.
For dependable hydration when you need it, look for a durable, high-quality model with a double wall of vacuum insulation, such as the bestselling Iron Flask wide mouth gym water bottle. Water or sports drinks will stay icy cold for hours, providing hydration you can count on during your workout. Compared to plastic reusable water bottles, stainless steel has no flavor transfer and never rusts, making it easy to keep clean, sanitized, and looking like new.
The best gym water bottle should have different lids for a variety of situations. Try a spout lid for fast, drip-free hydration. The spout lid allows you to sip water quickly without any drips or mess, and comes with a durable handle and low-profile integrated carabiner — providing a secure grip and additional storage options.
To accessorize your gym water bottle, a protective boot is a handy upgrade. It works like a durable coaster, adding a touch of style while also protecting the shiny, powder-coated exterior from dents and dings. Look for scratch-resistant, high-quality silicone that also keeps surfaces from getting scratched or damaged — like the Iron Flask protective boot, available in a variety of fun and classic colors.
2. Super Absorbent Sport Towels
If you sweat a lot during a workout, a regular bath towel isn't enough to keep you dry and comfortable. Bath towels are meant for drying thin liquids like water from a shower or bath, not thick, oily substances such as sweat. When you use a towel from home, it doesn't fully absorb the wetness, so you're basically covering your face with old sweat, which is just no good.
When you're sweating profusely during intense workouts, you need a specially designed sports towel made with microfiber, which quickly absorbs sweat and dries in just a couple of minutes. Microfiber towels are also super soft, making them ideal for sensitive areas like your face. If you work out several times a day, make sure to bring along a few extra towels so you'll always have a fresh one on hand.
If you're lucky enough to have access to a sauna or steam room at your gym, a towel wrap and robe is both a practical and luxurious way to enjoy a therapeutic session of sweating out toxins and easing sore muscles. Your post-workout shower is another reason to consider including a robe and towel wrap set on your list of must-haves for gym bag items.
With the towel wrap, you can depend on plenty of coverage and no slips thanks to a velcro closure that fits securely. The plush and absorbent terry cloth also dries fast while keeping you warm and comfortable. Layer it under a robe to keep your shoulders covered up, the perfect pairing for feeling comfortable in the sauna, locker rooms, and showers. A robe and towel wrap will also keep your muscles warm and covered after swimming laps in the pool.
Depending on the facilities available at your gym, you might need specific home workout gear for your favorite activities. Even if equipment is available, it's always a good idea to bring your own, especially with high contact gym gear like exercise mats, bands, and blocks that are often provided on-site.
Made with ultra-lightweight foam material and a carrier bag, a travel workout mat rolls up compactly, allowing you to throw it over your shoulder and easily carry it along with your bag of workout gear. The workout mat has many uses for exercise classes, including Pilates, yoga, or other floor fitness routines.
While many gyms provide yoga mats and other gear, there's no way to tell for sure if they are frequently and thoroughly sanitized, which is why we recommend bringing your own as a safer option. You should also bring along a sanitizing spray for wiping down your mat with paper towels before and after each use.
The latest technology such as smartphones, smartwatches, and wireless earbuds are perfect for working out, whether you're at the gym or on the trail.
A smartphone is essential if you need to stay connected to your home or work contacts while squeezing in a workout -- and it puts entertainment and the news literally at your fingertips as you sweat through your cardio or elliptical workout.
Take connectivity and communication a step further with popular addition of a smartwatch. Like a remote control for your smartphone, the smartwatch allows you hands-free access to phone calls, text messaging, and other essential apps. You can also use it to control the functions of music streaming platforms. Smartwatches are particularly useful for workouts as they are often equipped with fitness tracking abilities, so you can track goals and stats such as heart rate, steps, miles, and other info.
Music and exercise go hand in hand — wireless earbuds are must-haves for your workout gear bag. The latest models are designed to fit securely in your ear, so you can listen to music while you're on the move. With wireless earbuds, you also don't have to worry about pesky snags on the wires or a tangled mess in your bag, a major hassle of regular headphones.
If you plan on spending several hours at the gym, a portable charger should also be included in your bag of workout essentials. Small and compact enough to keep with your other gym gear, a portable charger is a handy backup when you need extra battery power for running high capacity apps such as music streaming platforms or videos.
6. Travel Size Toiletry Set
Whether you're headed home after the gym or to another event, always be prepared to look fresh and put together after a workout. Bringing along a travel-size toiletry set makes it easy to carry out your self-care routine on the go — easily store shampoo and conditioner, moisturizer, hand sanitizer, eye drops, and anything else you need to look and feel refreshed.
Walk out of the gym looking like a million bucks when you bring a set of fresh clothes to change into after showering. The easiest and most space-efficient way to store clothes in your gym bag is by rolling them up, which will also keep them free of wrinkles. If you need a different pair of shoes, store them in a small cloth bag within your larger gym bag, which will help keep your other workout gear clean and organized. For those with wet bathing suits and damp towels after the gym, it's also a good idea to store them within a smaller waterproof bag made with fast-drying material like mesh or vinyl. That way, you can conveniently keep all your gym bag essentials in one place while also protecting your other exercise gear from damp workout clothes.
Pack Your Gym Bag Essentials
If you're wondering what to bring to the gym, you're on the right track for working up a sweat and hitting all your fitness goals. And that's something you should feel good about because exercise is not only healthy for the body, but it also helps with stress relief and overall well-being. So grab your gear and get the body moving!