Advantages of Using Insulated Tumblers vs Glass Drinkware at Home
Need some tips for getting the most mileage out of your vacuum insulated tumbler when you're at home? Iron Flask has got you covered. From the makers of America's best-selling l...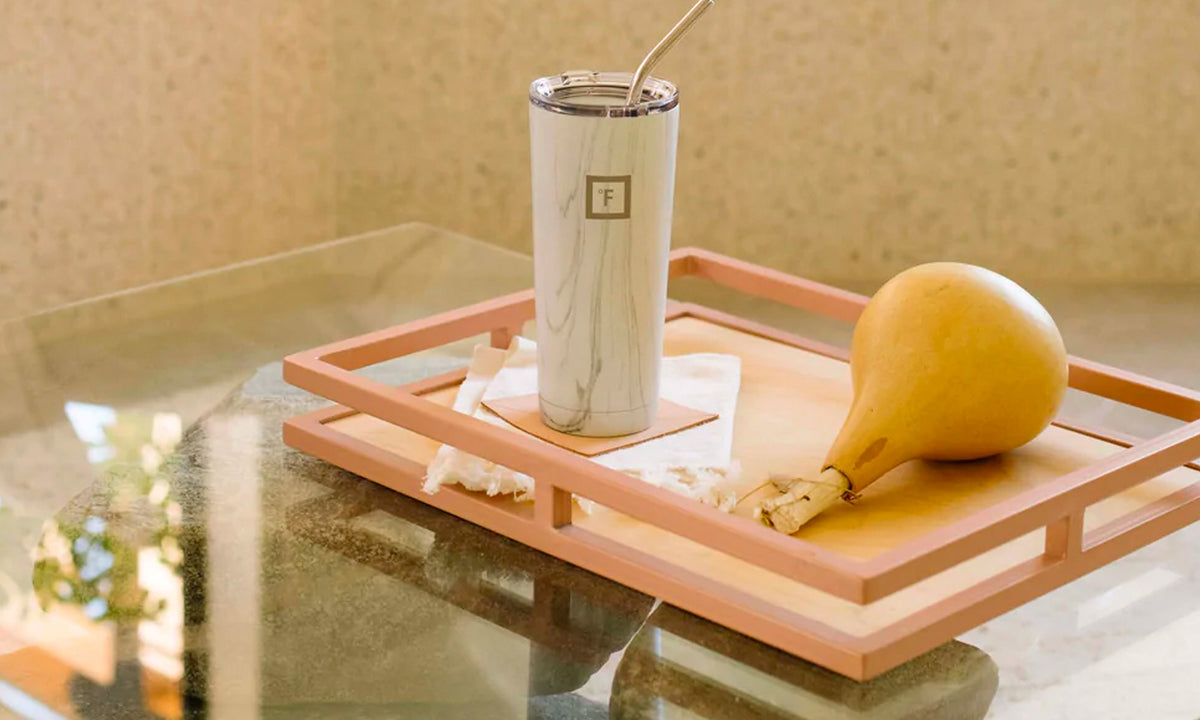 Advantages of Using Insulated Tumblers vs Glass Drinkware at Home
Need some tips for getting the most mileage out of your vacuum insulated tumbler when you're at home? Iron Flask has got you covered. From the makers of America's best-selling l...
Need some tips for getting the most mileage out of your vacuum insulated tumbler when you're at home? Iron Flask has got you covered. From the makers of America's best-selling line of reusable drinkware, get ready to learn about the advantages of a vacuum insulated tumbler and other frequently asked questions such as:
What is a tumbler used for?
What are the best lids and accessories for different beverages?
Why use insulated stainless steel tumblers instead of glass drinkware?
What are the benefits of reusable drinkware?
What is a Tumbler Used For?
With its modern and functional design that outlasts most glassware, the ultra-durable and versatile stainless steel tumbler is a type of reusable drinkware that you can count on — whether you're at home or out and about. Include a stainless steel insulated tumbler on your shopping list and be ready for anything.
Using Tumblers at Home
Coffee drinkers, rejoice! In terms of function, durability, and convenience, the stainless steel coffee tumbler covers all the bases. In comparison to traditional glass mugs, insulated tumblers will keep coffee drinks piping hot for hours, and its spill-proof, shatterproof features make it easier to use at home.
An added benefit is the double wall of vacuum insulation, which allows beverages to maintain their temperature for hours, keeping drinks icy cold or steaming hot. If you get distracted at home and forget about your drink, a stainless steel tumbler will ensure that your hot coffee stays nice and warm until you get a chance to drink it. In contrast to the vacuum insulated tumbler, glass drinkware has little insulation — so if you don't drink your coffee or tea right away, they'll lose heat quickly. Same goes for cold drinks, which will come to room temperature in glassware but stay frosty in an insulated tumbler.
What Are the Best Lids and Accessories for Tumblers?
You've got your tumbler and you've got your drink. Check and check. But what about lids and accessories? A tumbler is only as good as the full package, which is why Iron Flask provides necessary extras that let you bring your drink on the go and sip from the right lid for your situation.
Cold Drinks
The best model for drinking ice-cold beverages is the insulated tumbler with straw product from the Iron Flask collection. Whether you're relaxing after exercising or working up a sweat in your home gym, the BPA-free plastic straw gives you fast access to cold beverages when you need it -- and without the added hassle of any drips or spills, thanks to a 100% leak-proof design.
Hot Beverages
Our spill-proof lid is designed with a low profile spout, making it ideal for comfortably sipping hot beverages like your favorite coffee and tea drinks. The vacuum insulation technology also maintains outside temperatures, which keeps it from sweating and gives you a comfortable grip on the Iron Flask reusable coffee tumbler.
Pro tip: If you drink coffee or tea with dairy or dairy substitutes, be sure to scrub and clean your rambler mug with warm, soapy water within 20 minutes of use.
Glass vs Stainless Steel — What's Better?
So, now that we know what a tumbler is used for and which accessories are best, let's dig into why stainless steel is a better replacement for disposable drinkware than glass.
There's a long list of stainless steel tumbler benefits, especially when it comes to function and convenience. Glassware will always have its place in any kitchen, but the features of the insulated coffee tumbler outperform traditional drinkware in nearly every area, making them more functional and convenient. Here's what you can expect from premium insulated tumblers from Iron Flask:
High-quality Materials
Whatever the type of drink, stainless steel never has any flavor transfer and doesn't leave a metallic taste in your mouth, which is why 18/8 premium stainless steel is the best material for a vacuum insulated tumbler. It also never rusts, making it easy to keep clean and sanitized.
Useful tip: For more details on how to care for your Iron Flask reusable drinkware, check out our Care Tips.
Compared to glassware used at home, the non-toxic stainless steel tumbler is ultra-durable and built to last. Premium stainless steel is tough and heavy-duty, allowing it to take a beating at home while keeping its shiny exterior. The stainless steel coffee tumbler also has high-quality details such as a laser engraved logo and powder-coated finish, helping it maintain a just like new look.
Shatterproof and Spill-proof Design
Glass can break easily and when it does, shattered glass on the floor can be downright dangerous -- and a real nuisance to clean up. That's why a stainless steel insulated tumbler is a must-have for your kitchen supply checklist.
Built for top performance and durability, kitchen-grade stainless steel is puncture-resistant, spill-proof, and shatterproof.
Practical Features
Our tumblers come with a clear BPA-free press-in lid with a splash guard and spill-proof design, making drinking from your tumbler easy, convenient, and mess-free.
The lid also protects liquids from dust particles, keeping your drink tasting fresh and clean even if you forget about it for several hours.
The slender yet substantial build can hold plenty of liquid for all your needs and the handle provides a comfortable, secure grip.
What Are the Benefits of Reusable Drinkware?
Simply put, ditching disposables and going for reusable drinkware means sustainability, which is better for the planet. Compared to to-go coffee containers and glass mugs, the stainless steel tumbler is also the healthier, more eco-friendly option. Here's how:
Reduces plastic waste
One benefit of the stainless steel tumbler is its superior durability compared to single-use coffee containers at gas stations and coffee drive-thrus. Its sturdiness makes it convenient to use at home, and more importantly, it's also one less throw-away coffee cup.
When you consider the materials used for to-go coffee cups, every part of its anatomy is harmful to the environment. First of all, the plastic lid is made from polyethylene and the cardboard cup is also coated in this common plastic. As a result, the lid and cup aren't biodegradable and can't be recycled. Consequently, they end up in landfills, creating 2.8 billion pounds of trash per year.
Non-toxic and BPA-free
The problem with glass mugs is the potential for lead content that can be present in painted-on designs. In fact, according to a recent UK study, 70% of painted glasses, both new and used, contain harmful levels of heavy metals like lead and cadmium.
To-go coffee cups are also made from common plastics, which are known as endocrine disruptors. Based on numerous studies, we know that these harmful chemicals can damage the reproductive systems of humans and wildlife.
But insulated tumblers come with a much better outlook for the environment: the stainless steel body is non-toxic and the plastic lid is BPA-free, making this popular type of reusable drinkware the safer choice.
For an active, sustainable lifestyle, incorporating high-quality reusable products into your daily routine is essential not only for at-home convenience but also for helping to reduce plastic waste. Shop for your own stainless steel tumbler with handle product today and show your support for sustainability at #ironflask.